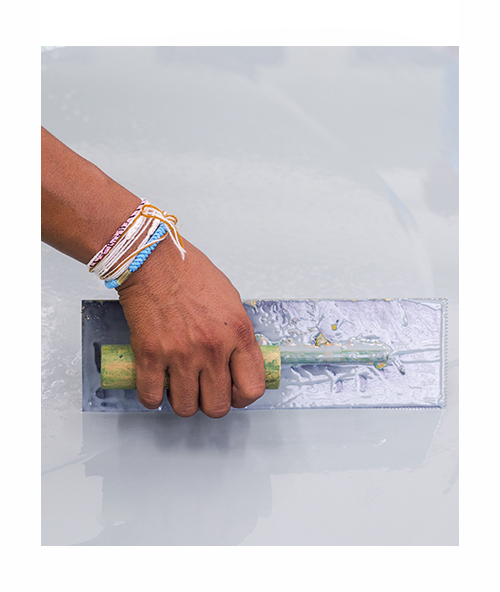 WA Concrete Restoration
WA Concrete Restoration "High-performance floor repair compound, fast curing 15 min (Environmentally Friendly)"
2 Gallons covers 13sq.ft. at ¼" depth
Grind-able in 15 mins and Drive-able in 1 hour.
High-Performance Patching Compound Designed to Fill Holes, Spalls, and Depressions in Concrete
Exhibits Excellent Durability
Can be Applied Above or Below Grade
Fast Return to Service*
100% Solids Polyurethane with Little to No Shrinkage
Environmentally Friendly; No Solvents
Two Component Formulation with 1-1 Mix Ratio
Color: Lt. Gray
*Working time is dependent upon temperature and humidity
Restore Concrete (WA-8010TR) is a trowel-able grade of 100% solids polyurethane that has been formulated as a high performance floor repair compound. After using our concrete restoration system to fill in the repair area, a concrete grinder can be used in 15 minutes, if desired. The Repair can be driven-on in 1 Hour. Our concrete restoration system can be used for interior applications without top-coating or exterior applications with the application of a topcoat, it is viscous enough for trowel application, but will also self-level in most applications.
Our concrete restoration system (WA-8010TR) has a 1 to 1 mix ratio of Iso to Resin, it is available in various sizes: 2 Quart Kits, 2 Gallon Kits; 10 Gallon Kits, and Drum Sets (Call +1 (959) 888-2039 or Contact Us to Order Drum Sets).
Application Equipment Required:
Mason's Trowel, plastic type (Depending upon application)
Measuring and mixing containers
Stirring equipment and stirring sticks
Acetone for clean up
Additional Information:
An aliphatic top coat is recommended to enhance exterior performance.
Be Sure to Read and Understand All Instructions Prior to Starting Application.
---
Back to Blogs