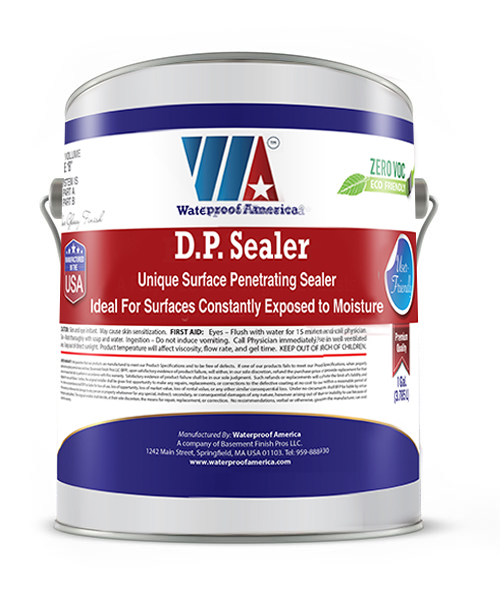 D.P. Sealer
Deep Penetrating Concrete Sealer and Primer
DP Sealer "Primer and Sealer chemically designed to last as long as the concrete itself. (Environmentally Friendly)"
Ideal for concrete and pours surface.
Less then 0.63 cents per square foot!
A 2 gallon kit covers 640sq.ft. at 5mil application
Can be Used on Concrete and Other Surfaces
Can be Applied Above or Below Grade
45 Minute Working Time*
Fast Return to Service
No VOCs; Environmentally Friendly
Two Component Formulation with 1-1 Mix Ratio
Color: Unpigmented
Will reduce moisture level to 3lbs per 1000sq.ft. in 24 hours in one application. Excellent bonding primer for top coatings such as Epoxy, Polyurethane, Polyureas etc. Most of the top coatings like epoxy, polyurethane and others, fail due to a bad moisture barrier, our primer and sealer prevents that.
Due to its unique chemical mix, one application will bring moisture flow to 3 lbs/ 1,000 sq.ft. / 24 hrs. Which is required by most floor covering manufacturers. This is Eco-Friendly, 100% Solids, Zero VOC, High Performance Sealing System.
Application Equipment Required:
1/4″ to 3/8″ poly foam rollers or woven lint free rollers; roller frame
Bristle or foam brushes, as desired
Paint tray with disposable paint tray liners
Measuring and mixing containers
Stirring equipment and stirring sticks
Acetone for clean up
Additional Information:
An aliphatic top coat is recommended to enhance exterior performance. Be Sure to Read and Understand All Instructions Prior to Starting Application.
Recommended Uses (Examples)
Reservoirs
Boat Floor Coating
Bridge Coatings
Concrete Decks
Concrete Restoration
Dock Coating
Equipment Wash-Down Areas
Foundation Coatings
Garage Floor Coating
Laboratory Floors
Man Hole Restoration
Marine Bridge and Deck
Marine Wood Coating
Parking Structure Coatings
Pool Deck Coating
Pool Coating
Terrace Floors
Tractor Trailer Floors
Truck Freight Ramps
Tunnels
Water Runoff/Overflow Areas
Water Treatment Plant Treatment Pond Coatings
Water Treatment Sluices & Estuaries
Water Park Features and Repairs
Water Parks and Theme Parks
---
Back to Blogs