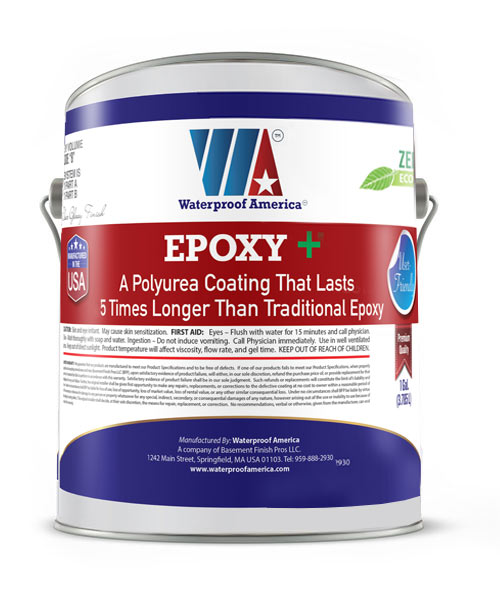 Epoxy Plus
Epoxy Plus "Durable and Elastomeric topcoat, Environmentally friendly polyurea."
Cost 1.15 per square foot
One 2 gallon kit will cover 320 square feet ($368.00)
High Performance Coating Designed to Preserve Concrete and Other Surfaces
Excellent Durability and Chemical Resistance
Can be Applied Above or Below Grade
Can be Used as a Primer Coat
20-40 Minute Working Time*
Fast Return to Service
84% Solids
High Solids Aliphatic Polyurea
Environmentally Friendly
Two Component Formulation with 1-1 Mix Ratio
Color: Gray, White, Black, Brown, Green, Red (Other colors available. Please inquire.)
See technical data in the product catalog.
At a 10 mil thickness, one 2 gallon kit will cover 320 square feet.
Epoxy Plus is available in various sizes: 2 Quart Kits, 2 Gallon Kits; 10 Gallon Kits, and Drum Sets (Call 959.888.2039 or Email: info@waterproofamerica.com to Order Drum Sets).
---
Back to Blogs