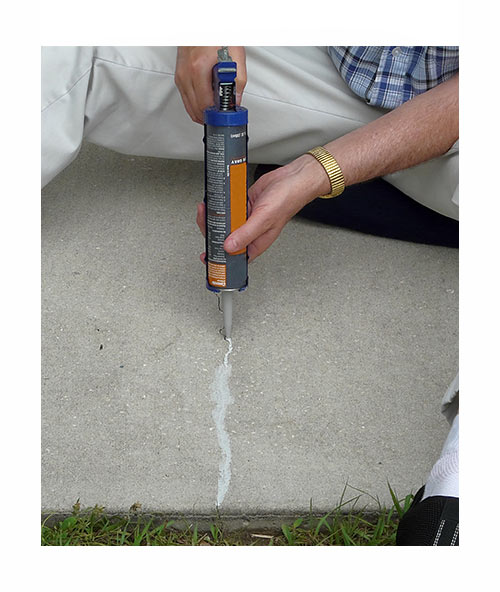 HYDRALOK SLR-WA3
Hydralock SLR-WA3 "High-performance crack filler providing long-term sealing protection impact resistance and excellent adhesion. (Environmentally Friendly)"
Unit Size 250ml 2KSS (Enough to fix 80 linear feet of 1/8" wide by 1/8" deep crack)
Fits regular caulk gun.
Contractor pack: Order a set of 5 or more at only $27.97 each.
High-Performance Crack Filler and Flexible Adhesive
Superior Adhesion to Many Surfaces (concrete, brick, stone, wood, metal, and more)
Exhibits High Flexibility; Permanently Fills and Waterproofs All Cracks
Outstanding Elongation with Repeated Expansion-Contraction Cycles
Can be Applied Above or Below Grade
Can be Applied In Cold Temperatures
Designed for Horizontal Applications; Self Leveling
3 Minute Working Time*
100% Solids Aromatic Polyurea
No Solvents; Little to No Shrinkage
No VOCs; Environmentally Friendly
Dual Component Cartridge
Color: Gray (Other colors available. Please inquire.)
Top-Coating recommended if UV exposure will occur.
HYDRALOK SLR-WA3 exhibits the superior performance and durability qualities necessary for a high-performance crack and joint filler. It has excellent adhesion to a variety of substrates such as concrete, brick, stone, wood, metal, and more. HYDRALOK SLR-WA3 provides a high degree of water, chemical, and impact resistance, providing long-term sealing protection, very low vapor transmission rate, excellent flexibility, and adhesion HYDRALOK SLR-WA3 contains zero VOC's and zero solvents. HYDRALOK SLR-WA3 offers a fast topcoat/recoat time on jobs where top coating or recoating is desired.
HYDRALOK SLR-WA3 has a 1 to 1 mix ratio of Iso to Resin. HYDRALOK SLR-WA3 is available in additional sizes: 750ml X 750ml Cartridges; 10 Gallon Kits, and Drum Sets.(Call +1 (959) 888-2039 or Contact Us to Order Drum Sets).
Demonstration of just how tough Waterproof America Crack Filler is
NOTE: This is not a typical or recommended use of the crack filling material, this video is for demonstration only.
---
Back to Blogs